Mais quelles sont les personnes qui ont développé ce super jeu ?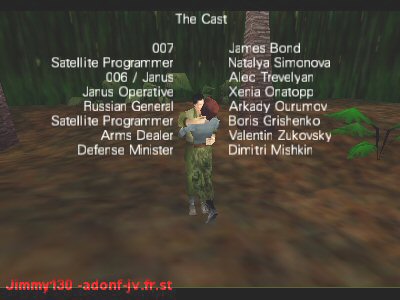 Lorsque vous tuez Trevelyan dans le niveau Craddle juste après vous pouvez voir les crédits du jeu.
Produced and directed by
Martin Hollis
Director of photography
Mark Edmonds M.A.
Original screenplay
David Doak
Scenic art director
Karl Hilton
Production designer
Duncan Botwood
Costume designer
B Jones
2nd Unit director
Stephen Ellis
Original music
Graeme Norgate
Grant Kirkhope
Sound effect
Graeme Norgate
Production Manager : Simon Farmer
System Support : Paul Mikel
Additional Graphics : Adrian Smith
Sound System and Tools : Graham Smith
Elevator Music by Robin Beanland
...
NOA
Treehouse Staff
Ken Lobb
...
...
Specials thanks
Mr. Arakawa
Howard Lincoln
Mr. Fukuda
Joel Hochberg
Tim Stamper
Chris Stamper
Filmed at Twycross Studios. England
in NINTENDOVISION
Produced by Rare
Presented by Nintendo